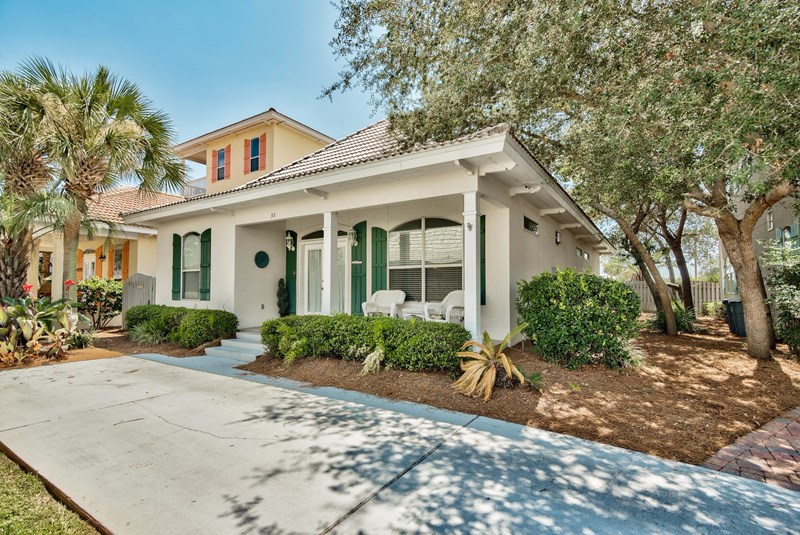 Terms and Conditions
ivacationonline Unit Number: 459
Please print these Terms and Conditions for your records.
The property will be ready for occupancy at 4:00 PM local time on the beginning date of the lease and must be vacated by 10:00 AM local time on the ending date of the lease. This is a Saturday to Saturday Rental. During high season, some units may not be ready by 4 p.m., your patience is appreciated.
The PREMISES is located at: 35 Aquamarine Cove Miramar Beach, FL 32550
SECURITY: In lieu of a security deposit we will hold your credit card on file. If there are damages to this unit during your stay, we will bill your credit card and send you an invoice. You agree to this by booking this unit. The balance of rent and any other fees are due 60 days before you arrive. You can mail a check to Mary Ann Jansen. This information will be emailed to you. If you are booking this within 60 days of arrival, the total amount is due at time of booking.

You are responsible for any and all damages that occur to the property or its contents by you or any other member of your group, individually or collectively, while you are the registered occupant of the property.
Any damage noticed upon arrival should be reported to the OWNER immediately. If damage is not reported, your credit card may be charged for the cost of the repair. All general maintenance should also be reported so the unit can be kept in good repair. In order not to be charged additional fees, the following must occur:
a) No damage is done to the unit or its content including the linens.

b) No items are missing upon the inventory check. (This includes, but is not limited to, transferring items to other units.

c) All debris, garbage and discards are placed in proper containers.

d) All soiled dishes are placed in the dishwasher.

e) There was no exceeding the maximum occupancy of the unit.

f) There was no smoking or evidence of smoking in a designated non-smoking unit.

g) Unit is left in neat condition.
ACCIDENTAL RENTAL DAMAGE INSURANCE: An insurance policy is in place with this rental. Accidental Rental Damage Insurance through Travel Guard is added to this booking. The fee is $69. This provides $1,500 in Accidental Damage coverage to this property. Please see the policy details that are emailed to you or on the booking page. You will be charged on your credit card for any damages that are over $1,500 or that do not fall into this policy coverage. Per the damages policy in this document.
SEVERE WEATHER
:
We do not refund rents or deposits lost due to cancelled or shortened stays because of weather. Departures due to inclement weather do no warrant refund of rent or deposit.
Hurricane Policy and Tropical Storm Policy
We do not offer any refunds for Hurricanes or Tropical Storms. We highly recommend getting TRAVEL Insurance for your trip. It is up to the

Guest

to purchase this coverage for their trip.
Coverage is available for health and weather related problems. Please call them direct or order online to purchase this in your name.
TRAVEL INSURANCE AND HURRICANES: WHAT'S COVERED?
Travel insurance may cover a traveler's vacation investment if severe weather conditions directly affect their travel arrangements or accom­mo­dations. For example, if a traveler is forced to cancel a trip due to a hurricane, travel insurance with trip cancellation can provide a reimbursement for nonrefundable expenses, up to the limit of coverage purchased.
If severe weather forces the evacuation of the traveler's unit, the travel insurance may provide reimbursement for nonrefundable expenses, and additional travel expenses. For losses to be covered, travel insurance must be purchased before a hurricane is forecasted or predicted. Once a storm is named, losses resulting from a hurricane that has been forecasted or predicted on or before the effective date of coverage are excluded.
All claims will be evaluated on their own merits at the time of adjudication.
Travel Insurance is available on this site and we highly recommend you purchase it.
ABSOLUTELY NO PETS are permitted in rental units under any circumstances, NO EXCEPTIONS. If any evidence of a pet(s) is found in your unit or on the premises, you will be asked to vacate immediately with no refund of rent or damage deposit.
COMMUNITY RULES:
Guest agree to abide by rules of the community. These may be posted in the unit or at the community pool or office. These rules may change from time to time.
MINIMUM STAY:
This is a weekly rental. Saturday to Saturday. If you have a question about a longer stay please contact the owner direct.
INCLUSIVE FEES:
Rates include a one-time linen setup and cleaning service at the time of departure. There is NO DAILY MAID SERVICE. Guests will need to provide their own paper items and cleaning supplies. An initial set up of trash liners and toiletries is provided. Extra items needed are the responsibility of the guest. (ie Bring your tooth paste, laundry detergent, soap, beach towels, extra toilet paper etc.)
UTILITIES:
The landlord will provide water, heat, electric, trash removal and local telephone usage. Lessee is responsible for all long distance calls made during tenancy.
RESTRICTIONS:
No trailers, boats, jet skis.
ACCOMMODATIONS:
One king, one queen, and 2 sets of bunk beds . Lessee supplies linens for beach use.
MAXIMUM NUMBER OF OCCUPANTS:
The house is to be occupied by no more than 8 (eight) persons at a maximum. We will not rent to vacationing students or singles under 25 years of age unless accompanied by an adult guardian or parent. No chaperoned groups VIOLATION OF THIS PROVISION SUBJECTS LESSEE TO SIGNIFICANT PENALTIES WHICH ARE NECESSARY TO PROTECT THE LESSOR BECAUSE OF THE FACT THAT THIS LEASE IS A SHORT TERM SUMMER VACATION RENTAL.
FALSIFIED RESERVATIONS;
Any reservation obtained under false pretense will be subject to forfeiture of advance deposit and/or rental money and the party will not be permitted to check-in.
LESSEE assures the LESSOR that the tenants will observe all conditions and terms of this lease as to maintaining the premises in good order and appearance and will conduct themselves in a manner inoffensive to neighbors.
LESSEE assures the LESSOR that any tenant who violates any of the terms of this Lease shall be immediately denied occupancy and shall remedy any damages or other expenses, which are caused by the tenant and/or the tenant's guest(s).
LESSEE agrees that any tenant who is found using drugs or allows others to use drugs on the premises will be immediately denied continued occupancy at these premises.
LESSEE and/or their guests shall not disturb, annoy, endanger, or inconvenience neighbors, nor use the premises for any immoral or unlawful purposes, nor violate any law or ordnance, nor commit waste or nuisance on or about the premises.
LESSEE agrees that during the term of this lease and such further time as he/she occupies the premises, he/she will keep the leased premises clean and free of trash, garbage, and other waste; and all pipes, wires, glass, plumbing and other equipment and fixtures in the same condition as at the beginning of, or may put in during the term of the lease, reasonable wear and tear and damage by unavoidable fire and casualty only exception.
LESSEE agrees to indemnify and save LESSOR harmless from all liability, loss or damage arising from any nuisance or harm made or suffered on the leased premises by the LESSEE, tenants, or guests or from any carelessness, neglect, or improper conduct of any persons entering, occupying or visiting the leased premises.
LESSEE agrees that he/she shall not paint or make alterations to the property, including changing existing locks or adding new ones, without the LESSOR'S written consent.
Upon not less than 24 hours notice, LESSEE shall make available to LESSOR or his agent for the premises of entering to make necessary or convenient repairs and to show the premises to prospective tenants.
In an emergency, LESSOR or his agent may enter the premises at any time without securing prior permission from LESSEE.
LESSEE may not let, sublet or assign this lease for all or any part of the premises without prior consent of the LESSOR.
If LESSEE abandons or vacates the premises, LESSOR may at his option terminate this lease, enter the premises, and remove all property.
In the event that any action shall be commenced by either party arising out of, or concerning this lease or any right or obligation derived there from, the prevailing party shall be entitled to receive attorney's fees as fixed by the Court in addition to all relief at law or equity.
Either party may terminate this lease in the event of a violation of early provision of this lease by the other party in the manner and as provided by law.
The Policies and Procedures above are meant to protect our guests and owners alike. All guests, as well as owners are required to conform to all Policies and Procedures.
LESSEE assumes full responsibility for fulfilling the terms of the lease for the period stated and assure the LESSOR full recourse for the payment of any amount outstanding from the total amount due in accord with the terms as stated above including any outstanding or unpaid charges that are the responsibility of the LESSEE.
In the event of cancellation of this contract, refund of the advanced rental deposit will be made only to the extent that a tenant call be found to occupy the vacated time reserved under this contract.
PENALTY FOR VIOLATING MAXIMUM OCCUPANCY PROVISION. VIOLATION OF THE MAXIMUM OCCUPANCY PROVISION CAN RESULT IN SERIOUS HEALTH PROBLEMS DIRECTLY RELATED TO OVERUSE OF THE SEWER .THEREFORE, IN THE EVENT LESSEE ALLOWS THE PREMISES TO BE OCCUPIED BY MORE THAN TEN PERSONS, LESSEE SHALL BE RESPONSIBLE TO PAY LESSOR.THE-SUM OF ONE HUNDRED ($100.00) DOLLARS PER PERSON IN EXCESS OF TEN PERSONS PER DAY FOR EACH DAY THE LESSEE ALLOWS THE PREMISES TO BE OCCUPIED BY MORE THAN TEN PERSONS.
CANCELLATION POLICY:
Cancellation or changes of reservations with advance payments. Cancellations that are made more than (60) days prior to the check in date will forfeit a minimum charge of $ 250.00. Cancellations that are made within (60) days of the check in date forfeit the full advance payment. Any changes that are made more than sixty (60) days prior to the check in date will not be penalized. Any changes made within (60) days of the check in date that result in a shortened stay, change of dates, change of location or unit, may result in loss of entire advance payment. Cancellations and early departures due to inclement weather do not warrant any refund of rent.
CREDIT CARD AUTHORIZATION:
I understand and consent to the use of the credit card provided without original signature on the charge slip, that a photocopy or fax of this agreement will serve as an original, and that this Credit Card Authorization cannot be revoked and will not terminate until 90 days after leased premises are vacated. Charges may include: unauthorized long distance telephone and satellite TV charges; damages beyond normal wear and tear; unreturned keys, parking and water taxi passes.
Damages
You are responsible for any and all damages that occur to the property or it's contents by you or any other member of your group while you are the registered occupant of the property. In lieu of a security deposit we will keep your credit card on file as a security deposit. If we discover that there has been damage to the property or it's contents while you are the occupant we will capture an amount from your credit card to cover the estimated cost of repairs. The amount we capture will be an estimate and will probably be more than the actual cost of repairs. We will provide a statement of the damages and the cost of the repairs after they have been completed. If there is a refund due it will be returned to the credit card after all repairs have been made. If the cleaning company detects any evidence of smoking in the homes not specifically listed as a smoking home you will be billed an additional $200 to deodorize the home.
Please leave the home neat and orderly to avoid additional charges. If the cleaning crew finds that the home has been left excessively dirty you will be billed for the additional cleaning time at a rate of $50 per hour.
Security-Armband Policies and Procedures
Children 12 years of age and younger are not required to wear an armband.
Guests will have to provide a lease agreement or an email confirmation of lease to present to the Security Attendant with a valid ID or a photo of lease and ID taken with your smartphone.
1. The Armband Policy will be in affect starting March thru August
2. An attendant will be placed at the pavilion from the hours of 10:00am-4:00pm, 7 days a week.
3. Guests are to check-in with the attendant to obtain their armbands for the week. Guests should wear their bands while at the pool areas, on the pavilion and at the beach.
4. A deposit of $20.00 will be collected from the guest at the time the bands are issued. When the bands are returned to the attendant the deposit will be given back. If bands are missing the replacement cost is $2 a band.
5. The attendant is responsible for keeping a log of check-out & Check-in of bands.