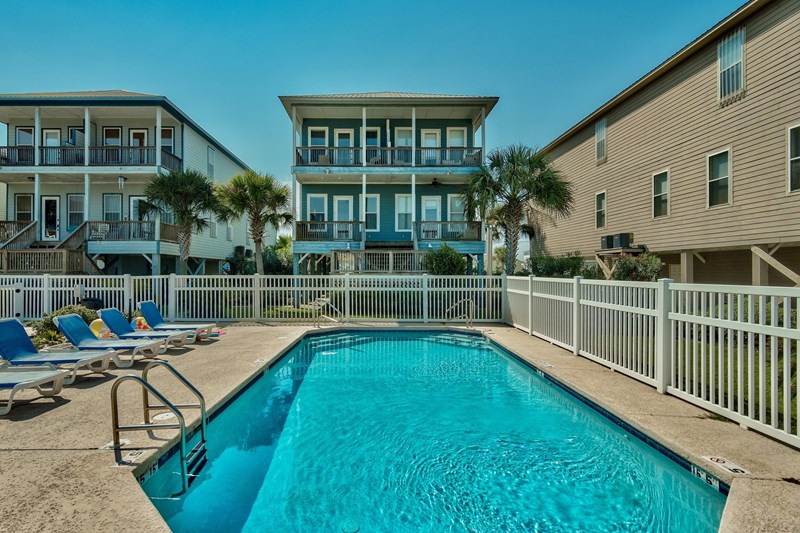 Please print these Terms and Conditions for your records.
The property will be ready for occupancy at 4:00 PM CST on the beginning date of the lease and must be vacated by 10:00 AM CST on the ending date of the lease. During high season, some units may not be ready by 4 PM.
This lease is between the LESSEE Owners:

Amanda and Brian Driscoll

or LESSOR.
Street address for this property is:

1380 W. Lagoon Ave

, Unit A, Gulf Shores, AL 36542

.
This duplex is on

West Lagoon Ave

, approximately

2.0

miles west of Hwy 59 on

West Lagoon Ave

the

north

(right)

side of the street. This is a non-smoking home. No pets are allowed.
* We highly recommend purchasing TRAVEL Insurance for your trip. We have a NO REFUND Policy.
Check-in Time:
This unit will be ready for occupancy at 4:00 PM CST. Occasionally the cleaning staff may need additional time in order to ready the home for your stay. We ask for your patience and suggest you have alternate plans available in the event additional time is needed. Please do not interrupt or delay the cleaning staff if they are at the house. Let us know

immediately

if the unit has not been properly cleaned.
Check-out Time:
Check-out time is at or before 10:00 AM CST. A

$50 per hour

fine will be assessed for guests remaining after 10:00 am CST on the day of check-out unless a late check-out has been approved in writing in advance. Late check-out is not available for Saturday-Saturday stays in peak spring break and summer seasons.
Security Deposit:
In lieu of a security deposit we put a $49 Warranty Protection policy in place.
You are responsible for any and all damages that occur to the property or its contents by you or any other member of your group, individually or collectively, while you are the registered occupant of the property.
WARRANTY PROTECTION POLICY

: A WARRANTY PROTECTION POLICY
is included for any damages or accidents, subject to exclusions and limitations that occur to the premises during your rental period up to $3,000. Any damage or accident that is not covered under the policy will be the responsibility of the leaseholder.
CREDIT CARD AUTHORIZATION:
I understand and consent to the use of the credit card provided without original signature on the charge slip, I understand that by "clicking the check boxes on the terms and conditions page of the lease application " that I have read the terms and conditions of this property, I am bound by this agreement and I have signed "electronically, and that this Credit Card Authorization cannot be revoked and will not terminate until 90 days after leased premises are vacated. Charges may include but are not limited to: unauthorized long distance telephone and TV charges; damages beyond normal wear and tear; intentional damage, unreturned keys, and parking violations.
System Failure: In case of failure of a system or amenity during your stay, including but not limited to, water, sewer, heating, air-conditioning, electrical, mechanical, ventilating structural systems,major appliances, pools, hot tub or entertainment equipment. We shall promptly repair them. You agree to permit access to the house to make repairs. We shall not be liable to you in damages and NO REFUND will be given for such temporary failure, provided we are repairing the system or amenity in a reasonable manner after having received notice from you that repairs are needed.
Damage:
Any damage noticed upon arrival should be reported to the owner immediately. If damage is not reported, your credit card may be charged for the cost of the repair.
All general maintenance should also be reported so the house can be kept in good repair.
In order to prevent additional charges to your credit card on file, the following must occur:
a) No damage is done to the home or its contents, including linens.
b) No items are removed from the home or are missing upon the inventory check. This includes transferring items between units. All towels, pillows and linens must remain in the house.
c) All debris, garbage and discards are placed in outdoor trash cans.
d) Soiled / dirty dishes are placed in the dishwasher, use DISHWASHER DETERGENT ONLY and start the dishwasher. Dishwasher detergent is not provided.
e) There is no sign of unauthorized pets. We have a firm no pet policy!
f) House is left in neat condition
g) Occupancy is not exceeded
h) There is no evidence of smoking in the house, and cigarette butts are not left on the decks, in the yard, etc.
i) Cable & WIFI are provided FREE of charge, but not guaranteed. Any tampering with the modem will result in a $50 charge.
Travel Insurance provided by TRAVEL GUARD:
Every year, snowstorms, hurricanes and other unexpected weather events cause travelers to delay, interrupt or even cancel their trips completely. A travel insurance plan can help cover your vacation investment. Specific coverage questions should be directed to Travel Guard (1.877.246.5376 or www.travelguard.com/astp). Please refer to product number 008573/008574 P1 & account # 97908.
Coverage is offered by Travel Guard Group, Inc., and limitations will apply. Please visit www.travelguard.com/disclaimer for full disclaimer.
Hurricane Policy and Tropical Storm Policy
We do not offer any refunds for Hurricanes or Tropical Storms.
We highly recommend purchasing TRAVEL Insurance for your trip. We have a NO REFUND Policy.
CANCELLATION POLICY:
We have a NO REFUND policy.
Cancellations and early departures due to inclement weather do not warrant any refund of rent.
Pets
:
No pets are permitted. If any evidence of a pet(s) is found in the house, you will be asked to vacate immediately with no refund of rent.
Parking
:
You may park up to 3 cars in our driveway (each unit has room for two under the house). You may not park or store a boat or jet ski trailer in the driveway. No RVs may be parked in the driveway or hooked up to the house. Do not park in the grass for any reason! You will be charged $250 per incident + the cost to repair the spinkler system, if you park in the grass.
Age Requirements:
We do not rent to vacationing students or singles under 25 years of age unless accompanied by an adult legal guardian or parent. No chaperoned groups for spring break or graduation trips.
Maximum Occupancy:
The maximum number of persons permitted is limited to

TEN (10)

per unit. We will not rent to vacationing students or singles under 25 years of age unless accompanied by an adult guardian or parent. No chaperoned groups for spring break or graduation trips. VIOLATION OF THIS PROVISION SUBJECTS LESSEE TO SIGNIFICANT PENALTIES WHICH ARE NECESSARY TO PROTECT THE LESSOR AS THIS IS A SHORT TERM VACATION RENTAL. No exceptions shall be permitted without prior approval and additional fees may apply. Violation of maximum occupancy will result in immediate eviction with no refund of rent or damage deposit. In the event the LESSEE allows the premises to be occupied by more than

10 persons

, the Lessee shall be responsible to pay the LESSOR the sum of one hundred dollars ($100) per person in excess of

10 persons

per day for each day the LESSEE allows the premises to be occupied by more than

10 persons

.
Cleaning:
No daily maid service is provided. A one-time set up of linens, bath towels, garbage liners, paper towels, bath soap and toilet paper is included. Vacuum cleaner, brooms, etc are in the home should you need them. Do not remove towels or linens from house.
Please bring your own beach towels. We do not provide beach towels.
Trash:
You are responsible for putting out trash cans on

Sunday

and

Wednesday

nights, and bringing them back in the following morning. This will insure that there is sufficient room in the cans for your trash when you check-out.
NOTE:
The trash company will not pick up anything not placed in cans.
Grills and Grilling
– We do not provide a grill due to insurance regulations.
If a grill is used on the property please follow these simple instructions…
·
No grilling on the wood decks or balconies
·
Do not discard used coals or ash in grass or wetlands area
·
After coals have been COMPLETELY extinguished, put into a sealed plastic garbage bag and discard in outside waste receptacle
Fireworks
:
The use of fireworks is prohibited on all of our vacation properties. Local City ordinances and fire code prohibit the use of fireworks on beaches, buildings, or grounds.
This is a 2 story home with balconies
, stairs and a pool. Pools, balconies and stairs present an inherent danger. You are accepting full responsibility for the safety of renting parties and all guests; and agreeing to supervise children to ensure their safety. CHILDREN UNDER THE AGE OF 16 MUST BE SUPERVISED ALL THE TIME IN THE POOL AREA. Owners:

Brian and Amanda Driscoll

assumes no responsibility for any accident or injury in connection with such use. Persons using the pool and pier agree with the Owners for and in consideration of the use of the pool and pier, to make no claim against the owners for or on account of any loss of life, personal injury, or damage to or loss of personal property.
PlPlease follow and obey all posted Laguna Sands Homeowner Rules
POOL RULES are posted by the Laguna Sands Homeowners Association and must be followed!
·
Please do not take glass containers into the pool area for any reason
·
Please do not hang towels on Balconies or Pool fence.
·
Please do not touch TIMERS, filters, heaters or pool mechanical devices, if you experience a problem please contact maintenance man or owner immediately
·
Please do not leave your pool toys in the pool or pool area. Items left in the pool area overnight are not secure and will be discarded by the management.
·
Do not remove pool furniture from the pool area.
·
Do not bring condo furniture into the pool area.
Other Terms and Conditions:
1)
LESSEE
assures LESSOR that the tenants will observe all terms and conditions of this lease as to maintaining the premises in good order and appearance and will conduct themselves in a manner inoffensive to neighbors or other guests.
2)
Falsified Reservations
– Any reservation obtained under false pretense will be subject to forfeiture of rental money and the part will not be permitted to check-in or the party will be evicted with loss of all funds.
3)
LESSEE
assures LESSOR that any tenant who violates any of the terms of this Lease shall be immediately denied occupancy and shall remedy any damages or other expenses, which are caused by the tenant and/or the tenant's guest(s). We reserve the right to provide an invoice and charge credit card on file for any such damages, and/or refuse rental or to discontinue occupancy if in our judgment your occupancy of the unit is detrimental to the property.
4)
LESSEE
and/or their guests shall not disturb, annoy, endanger, or inconvenience neighbors, nor use the premises for any immoral or unlawful purposes, nor violate any law or ordnance, nor commit waste or nuisance on or about the premises.
5)
LESSEE
agrees that any tenant who is found using drugs or allows others to use drugs on the premises will be immediately denied continued occupancy at these premises.
6)
LESSEE
agrees that during the term of this lease and such further time as he/she occupies the premises, he/she will keep the leased premises clean and free of trash, garbage, and other waste; and all pipes, wires, glass, plumbing and other equipment and fixtures in the same condition as at the beginning of, or put in during the term of the lease, reasonable wear and tear and damage by unavoidable fire and casualty being the only exceptions.
7)
LESSOR
cannot guarantee air conditioners, televisions, appliances, etc. No refund or rate adjustment will be made for mechanical failures. In case of breakdown, LESSOR will strive to repair it as soon as possible after being notified by you of the problem. Report any problems to Gail

513-293.4333.
8)
LESSEE
agrees that he/she shall not paint or make alterations to the property, including changing existing locks or adding new ones, without the LESSOR'S written consent.
9)
LESSEE
agrees to indemnify and save LESSOR harmless from all liability, loss or damage arising from any nuisance or harm made or suffered on the leased premises by the LESSEE, tenants, or guests or from any carelessness, neglect, or improper conduct of any persons entering, occupying or visiting the leased premises. You are assuming all risks and liabilities for any damage done to person or property, agents, employees, or visitors occasioned by the present or future condition of the premises, both latent and manifest. We will not be responsible for accidents or injuries to guests or loss of money or valuables of any kind.
10)
Upon not less than 24 hours notice, LESSEE shall make the premises available to LESSOR (or his agent) for the purpose of inspection, repair, management or showing to prospective tenants. In an emergency, LESSOR (or his agent) may enter the premises at any time without securing prior permission from LESSEE.
11)
LESSEE
may not let, sublet or assign this lease for all or any part of the premises without prior consent of the LESSOR.
12)
If LESSEE abandons or vacates the premises, LESSOR may at his option terminate this lease, enter the premises, and remove all property.
13)
In the event that any action shall be commenced by either party arising out of, or concerning this lease or any right or obligation derived there from, the prevailing party shall be entitled to receive attorney's fees as fixed by the Court in addition to all relief at law or equity.
14)
Either party may terminate this lease in the event of a violation of early provision of this lease by the other party in the manner and as provided by law.
15)
LESSEE
assumes full responsibility for fulfilling the terms of the lease, for the period stated and assures the LESSOR full recourse for the payment of any amount outstanding from the total amount due in accord with the terms as stated above including any outstanding or unpaid charges that are the responsibility of the LESSEE.
16)
Any use of this property other than standard lodging use must be authorized by LESSOR

.

(i.e. parties, receptions).
17)
Written Exceptions – Any exceptions to the policies contained within this agreement must be approved in writing in advance by LESSOR.