Colorado Vacation Rentals. (5 units in 5 Cities)
You can also click a city name from the map below to view the rentals in that area.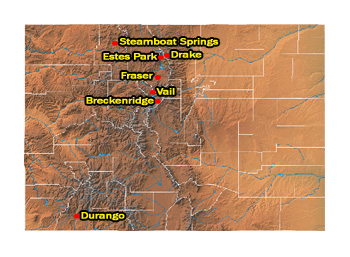 Colorado Vacation Rentals

People who vacation in Colorado have the vision to hit the abundant amount of ski slopes in the beautiful mountains. Vacation rentals by owner are available and include condos, family homes, town homes or a rustic cabin. Most sit near a mountain and provide excellent scenery and relaxation.

Colorado is the home of 26 different ski resorts and attracts over 11 million tourist each year. The key areas to visit to have fun in this incredible snow includeBreckenridge,Aspen, Vail, Steamboat Springs, Keystone, along with many other offers an amazing skiing experience.

Some areas include:



Breckenridgewill provide you access to a 4 mountain resort, where over 2000 acres of ski trails, leads you to town. Vail, a very large area provides over 100 trails, both for beginner and intermediate skiers.

There are several other exciting activities in Colorado including: Hiking, Abundant Hunting, Fly Fishing, Shopping, Historical Mining Sites, Horseback Riding and many more. The options are endless when you vacation in Colorado. There are several national parks, streams, rivers and lakes, where these activities take place. Mountain Biking in Colorado is another popular activity, individuals love to participate in. There are several designated areas for you to enjoy a ride in town, mountains or other key areas.

Denver, Colorado is a great place to enjoy the abundant amount of clubs, professional sports, shopping, fine dining and sight seeing. A great place to visit if you are looking to do a lot of activities at a fast pace.

The wildlife in Colorado includes several different species from elk, bear, deer, turkey, mule deer, variety of birds and other big game animals. The mountains and prairies provide plenty of hunting, camping and witnessing these majestic animals you may have never seen.

Ready to book your next vacation in Colorado? We work closely with vacation rental owners, allowing you to book your dream vacation online for lower prices using ourvacation rental software.Once, you have chosen your unit of choice and dates, you are just minutes away from having your next vacation in the books.

We here at ivacationonline.com hope you enjoy your next vacation in one of the amazing destinations of Colorado!!
ivacationonline.com Search
SEARCH VACATION RENTALS BY
Owner ID:
City:
State:

Refine Search
Bedrooms:
Property Type:
Availability
First Night:
Last Night:

(Property ID, City or State Required)
Email Newsletter Sign Up