Missouri Vacation Rentals. (13 units in 4 Cities)
You can also click a city name from the map below to view the rentals in that area.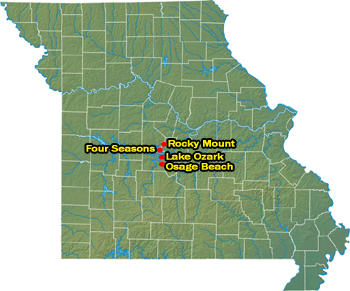 Missouri Vacation Rentals

A vacation rental in the state of Missouri is a great way to enjoy time away from home. You can enjoy the beautiful scenery in one of the rental villas, condo rentals or vacation homes that are featured in Missouri. Rather you are looking to enjoy the city life in areas like St. Louis and Kansas City or a quiter area such as Lake Ozark, Missouri is a great place to indulge an adventureous vacation.

The state of Missouri is located in the midwest and offers beautiful nature that allows you to relax and enjoy an abundant of activities. The valleys and hills in Missouri is the home of over 5000 caves that can be explored by tourists through self-guided trips or guided. There are several rivers, lakes and streams that attract individuals who enjoy fishing, boating and canoeing. Some people even plan canoe trips and stop at various towns to shop or stay the night in a cabin. If you enjoy hiking or riding bikes, the Katy Trail is a great place for you to visit. It features around 225 miles of natural beauty that is the home of several different species of wildlife and plant species. The Katy Trail is also part of the Lewis & Clark National Historic Trail.

Popular Missouri Areas






The northeastern part of Missouri is where the large city of St. Louis is located, along with unique smaller towns that provide tourists with that warm southern hospitality. St. Louis is well known for its attractions, culture and history throughout the city. You will find the popular Gateway Arch that reaches a stunning 630 feet above ground and you can reach the top of the arch by means of a tram ride. Once to the top you will have an amazing view of the city and can get some great photographs. There are tours available in the Old Courthouse where The Dred Scott Trial for Freedom took place. The town of Hannibal is home of the legendary Mark Twain's Book and you will also find a unique museum there recognizing him. If you enjoy fishing, head over to Mark Twain Lake for some great fishing!

The southeastern region of Missouri is where you will find beautiful terrain of rolling hills and rivers of the Ozarks. For those of you, who enjoy the outdoors and gorgeous scenery, check out Grand Gulf State Park. This amazing area is referred to as a smaller version of the Grand Caynon and is absolutely magnificent. In the Charleston area you can see amazing Victorian Homes, along with beautiful dogwood and azalea trees as the blossom each spring in April. Take a visit to Tears State Park in Jackson where you can overlook the Mississippi River from the limestone bluffs, it's absolutely amazing!

The northwest region of Missouri is where popular Kansas City is located. If you enjoy the night life scene of clubs, bars and dining, this is place you'll want to be. Jazz and Blues music is extremely popular in the area and is found amongst many of the clubs throughout Kansas City. The barbeque food is simply amazing and can be enjoyed at over 90 different locations! Do you enjoy to shop? Im sure you do as most people do. Well, head over to Country Club Plaza where you can find great deals on the latest trends, along with Kansas City items. Over in Independence you will find an great mixture of history and culture, along with the St. Jo Frontier Casino. So, if your feeling lucky head over to the casino and enjoy the tables and slots.

The central region of Missouri attracts many tourists each year and is home to the state capital of Jefferson City. In this area you will find a variety of resorts, history, culture, along with several different popular lakes, which include: The Lake of the Ozarks, Stockton Lake, Truman Lake as well as Pomme de Terre Lake. Each of these lakes provide plenty of activities and fun such as boating, fishing, swimming or an afternoon picnic with the family.

In the southwest region of Missouri you will find a good mix of nature & culture. The popular cities in this area include Branson and Springfield. Branson is a very popular destination to enjoy a vacation as it features a variety of music and other entertaining shows, along with other Ozark Activities. Springfield is where the amazing American National Fish & Wildlife Museum and Aquariam is located. There are also great caves for you to explore and enjoy. If you enjoy history take a ride over to the George Washington Carver National Monument.

As you can see the state of Missouri is a great place to enjoy a vacation, regardless of what region you are staying at. Missouri is one of the most popular vacation destinations in the midwest area and attracts millions of individuals each year of all ages. If you are looking to book a vacation rental online by owner, you can do it at ivacationonline.com using ourvacation rental management software.Your next dream vacation can be booked in a matter of minutes at a great value!
ivacationonline.com Search
SEARCH VACATION RENTALS BY
Owner ID:
City:
State:

Refine Search
Bedrooms:
Property Type:
Availability
First Night:
Last Night:

(Property ID, City or State Required)
Email Newsletter Sign Up