Maryland Vacation Rentals. (0 units in 0 Cities)
You can also click a city name from the map below to view the rentals in that area.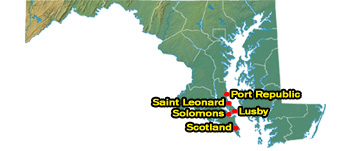 Maryland Vacation Rentals

A vacation in Maryland offers various places to stay. From the beautiful mountains, bay shores, ocean and unique historical attractions, there is a place for all to visit.

Maryland provides 31 miles of the Atlantic Coast ocean front, along with large stretch of the Chesapeake Bay offering an abundant of water activities. The activities along the cost may include: Boating, Fishing, Swimming, Surfing, along with many others. The scenic golf courses in Maryland are heavily visited for golfing enthusiast. They are beautiful and challenging, providing an amazing day at the golf course with friends and family.

Guest staying in there own vacation rental house, condo, or villa generally have there own transportation and are able to visit many of the scenic attractions in Maryland. The designated byways take you through waterfront villages and other unique historical places. Sea Kayaking is available throughout the marsh grasses in the lower part of the Chesapeake Bay. The mountains in Maryland provide fitness activities such as hiking, biking and site seeing. With several hundred lakes there is abundant fishing, boating, skiing and other fun water activities. The Eastern Neck National Wildlife Refuge provides on over 2000 acres, is a great place for adults and children both to spend the day.

Washington DC is a place many individuals want to visit. With it being relatively close you can enjoy the museums and well known monuments, along with amazing seafood at the heart of the Chesapeake Bay. There are plenty of night activities in DC area as well.

Maryland was the home for several Civil War sites. For those who enjoy historical war moments, there are plenty to visit. The large battlefield of Antietam National located in Sharpsburg, Maryland was one of the deadliest battles during the Civil War.

Some areas include:



Popular destinations for a Maryland Vacation Rental are Baltimore which is the states largest city,Saint LeonardandSolomons.

You can find the perfect vacation rental by owner at ivacationonline.com We work closely with property owners to allow you direct booking with our state of the artvacation rental software.Once you have found your Maryland Vacation Rental of choice and have chosen the available dates, you are just minutes away from your next dream vacation.

Enjoy your next vacation in the state of Maryland!!
ivacationonline.com Search
SEARCH VACATION RENTALS BY
Owner ID:
City:
State:

Refine Search
Bedrooms:
Property Type:
Availability
First Night:
Last Night:

(Property ID, City or State Required)
Email Newsletter Sign Up